IronWomen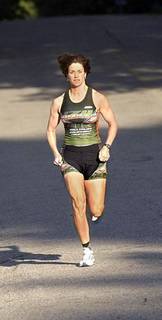 We spent the evening watching the live streaming video finish of the Ironman Triathalon held today in Wisconsin. If you are not familiar with this type of competition, let me acquaint you to the phenomenon that is The Ironman. The Ironman is a race of endurance and versatility. The athletes start out with a little swim. How little? 2.4 miles worth - and it's not in a calm pool. They swim in open water. Then the athlete mounts a racing bike for a little 112 mile Sunday drive. Finally, for grins and giggles, they finish up with a marathon run of 26.2 miles. That's a total of 140.6
MILES
- in one day. This race in Wisconsin is a qualifier for the World Championship held in Hawaii in October.
Our family has an interest in this race because
TWO
of C.'s cousins competed this year! His cousin Lauren has been running marathons since she was a teenager. She competed in the World Championship Ironman held in Hawaii two years ago, finishing in the top twenty in her age group. She then got pregnant with her first child (as we all joked she would). The baby is a year old and this is her "Comeback" year. What's even more exciting for the family is that her younger sister, MiMi recently moved back to the Pittsburgh area and decided to train with Lauren. Today was Mim's first full Ironman. You
GO GIRL
!
It was so cool that we got to watch the finish live over the Internet. We were hollering and cheering as if we actually were in Madison. The kids thought it was cool. Lauren finished
FOURTH
in her age group of women and 17th overall in the women's division. Her time was 11:07:31. That's ELEVEN HOURS non-stop my friends! Mimi finished
10th
in her age group of women and 54th overall. Her time was 11:55:14. She not only finished, she got in under 12 hours in her very first full Ironman. We're pretty sure Lauren has qualified for Hawaii next month. I'm really hopping Mim did, too. At first my MIL was of the understanding that the top 10 finishers in each age group make it. But now we're not sure how the math will work out. It would be JOYOUS if they both qualified! And hey, if our stocks mature in time that would be a great trip for us to follow them on! Of course I'm dreaming.
That's two tough chicks in our family and we are
SO
proud of them! If you want to check out the actual results, go to athlete info at the
race update
. Lauren Henzler is in the female 30-34 group. Mimi (Meredith) Colazzi is in the female 25-29 group. Both Girlies are from the Pittsburgh area. What a fantastic day! And the best part was that we got to see it live.
To think, I get winded, bitchy and crampy just running to the mailbox.
Catt