Best of Blogs (BoB) Awards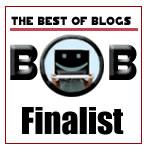 Wow! In a totally unexpected turn of events, this blog has been chosen as a finalist in the Best of Blogs Awards in the humor category.
THANK YOU
to those that nominated the site. I know you're laughing with me, not at me right?
If you happen by here and find yourself laughing, please feel free to click the image and vote. You can vote once every 24 hours until January 17th.
I'd like to ask that you vote for three blogs that I have been reading for quite awhile. If you've never read them,
DO
. I promise you'll enjoy them as much as I do. Jay of
Jay's Party
is a finalist in the Biggest Blog Whore category. He's the biggest blog ho I know, and he'll have you cracking up! Paul at
No Milk Please
is a finalist in the Best LGBT Blog category and Lizt of
This Full House
is a finalist in the Best Mommy Blog category. Please give them your support!
Sorry I'm a bit off today. No, I'm not still hungover, I promise. I just got word that a favorite professor passed away suddenly. I was working with him on a paper to present at a conference in the spring. At only 46, his kids are about the same age as mine are. He will be greatly missed by friends, family and everyone in the history field.